75th Anniversary
Our Group has recently turned 75 years old!
In the early days, we were known as the 56th Bedfordshire, before turning into the 5th Dunstable. If you have any memories from the earlier days of the group (even if they don't go back as far as 75 years!), then we'd love to hear from you. Please get in touch via our Contact Page.
Our members have been designing badges to celebrate the event. You can see their efforts here: [Beavers] [Cubs] [Scouts].
The design judged to be the best (by an independent panel) will be made into a badge and given to all group members. The winner has been chosen, but it's currently a secret!
Lowther Road Flowerbed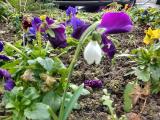 Our Flowerbed has wintered well, with a load of pansies providing some colour through the gloomy months, and a large number of spring bulbs to brighten up the start of 2018. We'll soon be starting to grow some seeds to be planted out in early June, so please be ready to do your bit. And if there are any parents out there with a green finger or two to spare, we'd be glad of your help.
Join us!
| | |
| --- | --- |
| | You're welcome to come and join in our activities. Click here to find out what you need to know. |