Lowther Road Flowerbed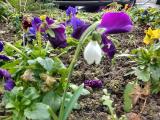 Our Flowerbed has started to show new life for the Spring, with the first of the snowdrops starting to bloom. The Pansies we planted in the Autumn are also still going strong, as you can see. There are lots of other bulbs shooting as well, so hopefully we'll have a riot of colour soon.
Jumble Sale
This year's Jumble Sale was held on 25 February. Due to the sterling work put in by our leaders, parents and friends, it seems to have been another success. No firm financial figures yet, but we seem to have taken around £2500 on the day. Many thanks to all who helped, which includes you, if you came and bought something.
Join us!
| | |
| --- | --- |
| | You're welcome to come and join in our activities. Click here to find out what you need to know. |